Felix Labisse's name appears associated with the Parisian surrealist circle, but his heterodox spirit did not conform to the somewhat dogmatic guidelines of the group led by André Breton.
However, since his arrival in Paris, after living for a period in Belgian city of Ostend (where he was a disciple of Ensor), he had the support and recognition of Christian Dotremont, Robert Desnos, Paul Eluard, Philippe Soupault and Jacques Prévert.
The three paintings that Setdart is putting out to tender these days belong to his most celebrated period, the one in which mysterious blue women begin to populate his work. These figures emanate an aura of cold eroticism, enhanced by the exotic topographies, impossible to locate, in which they are located.
An intense turquoise blue shines the skin of the "Jeune protstituée" (see lot 35202033) who looks at us with her large almond-shaped eyes, and behind which the biblical scene of the flight from Egypt unfolds, reinvented by Labisse's fertile imagination. This work was exhibited in the retrospective dedicated to the artist in Ostend in 1979 ("Labisse Retrospectieve. 50 jaar schilderkunst" Kursaal, Ostend 23.06-02.09-79).
Even more enigmatic is "Le soir du 18 decembre", dated 1963 (lot 35181879), in which a woman with indigenous features and straight hair, wearing that same ultramarine color of twilight intensity, is shown naked in her young bust and behind it we see a suggestive lake landscape. With a strong dreamlike character, the rock that emerges from the water appears to us as a petrified whale.
The third painting included in Setdart Auctions has been, like the other two, reproduced in numerous publications (35011252). Made a few years earlier, the human figure is absent, although suggested by the sensuality that surrounds the Amazon jungle, in the author's mytopoetic universe. His interest in the theme of metamorphosis is appreciated here, which will give rise in later paintings to a series of hybrid characters in which the human is intertwined with animal and plant elements.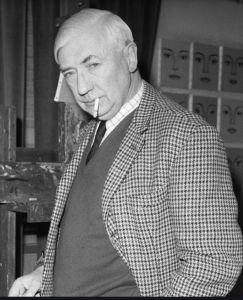 FELIX LABISSE (France, 1905-1982). The Labisse family originally came from Douai in northern France, but after World War I they moved to Ostend, Belgium. Labisse makes his debut as a painter in 1922, under the protective wing of James Ensor. Together with his friend Henri Storck, he founded the "Galerie d'Art Moderne" and the "Club du Cinéma de Ostend". As of 1932, he settled in Paris, where he became friends with Antonin Artaud, Jean-Louis Barrault and Robert Desnos, who dedicated a text to him. In 1935 he joined the group of surrealists and met Paul Delvaux, Max Ernst, André Masson and René Magritte, as well as Jacques Prévert and Raymond Queneau. Mobilized in 1939, at the outbreak of World War II, he returned to Paris from the front in 1940 and became one of the leading artists among the young French painters. From 1943 on, he devoted himself entirely to painting and scenography. In 1947 he joined the group "Surréalism Révolutionnaire, founded in Paris by Noel Arnaud and in Brussels by Christian Dotremont. The group, which does not last 18 months, aims to" reconcile the need for revolutionary action based on Marxism-Leninism and freedom of research and specific expression of surrealism. "The condemnation of the group by André Breton marks the first major division in surrealism after World War II. In June 1951 he made the sets for the play" The Devil and the Good God "by Jean-Paul Sartre, staging by Louis Jouvet. During this time he spent his time between Paris and Knokke Le Zoute, in the Netherlands. In late 1951, he moved to Neuilly-sur-Seine, near Paris, and continued to exhibit in France and the rest of Europe. In 1966 he was appointed a member of the Academy of Fine Arts and was buried in the Douai Cemetery. Parallel to his career as a painter, Labisse led a career as a decorator for theater, dance and opera. His first creations are influenced by Ensor and Flemish Expressionism. His mature work, under the sign of metamorphosis, as the naked woman with the head of Leona de la Felicidad para ser amada (1943), explores the limits of fantasy, ritual, magic or eroticism.