Let's go to the beach ... with the Levantine Luminists
We often find simplistic definitions of Levantine Luminism, interpreting it as a Spanish translation of French Impressionism. A more in-depth look at the Valencian landscape phenomenon and at different points on the peninsular coastline, as it developed in the late 19th and early 20th centuries, offers us a somewhat more complex panorama.
Although it is true that the Mediterranean light and the Levantine beaches impressed the painting a plain air of Valencians and Barcelonians (the Sitges School would be the second major focus of Luminist painters) with their own face, marked by a palette of intense whites, golden glitters and sparkling blues, Spanish luminism is not a mere local adaptation of the impressionism of the neighboring country .
In fact, the Valencian luminism and the Sitges luminist school are rooted, on the one hand, in the realistic tradition of Ramón Martí Alsina and Carlos de Haes, and on the other, they drink in the landscaping of the Barbizon school, being also the figure of Mariano Fortuny a key reference.
The great success of Luminism, an involuntary and unexpected success, was to transgress the reigning end-of-the-century academicism in the Spanish territory, but at the same time, enjoying full acceptance, even from the most conservative circles.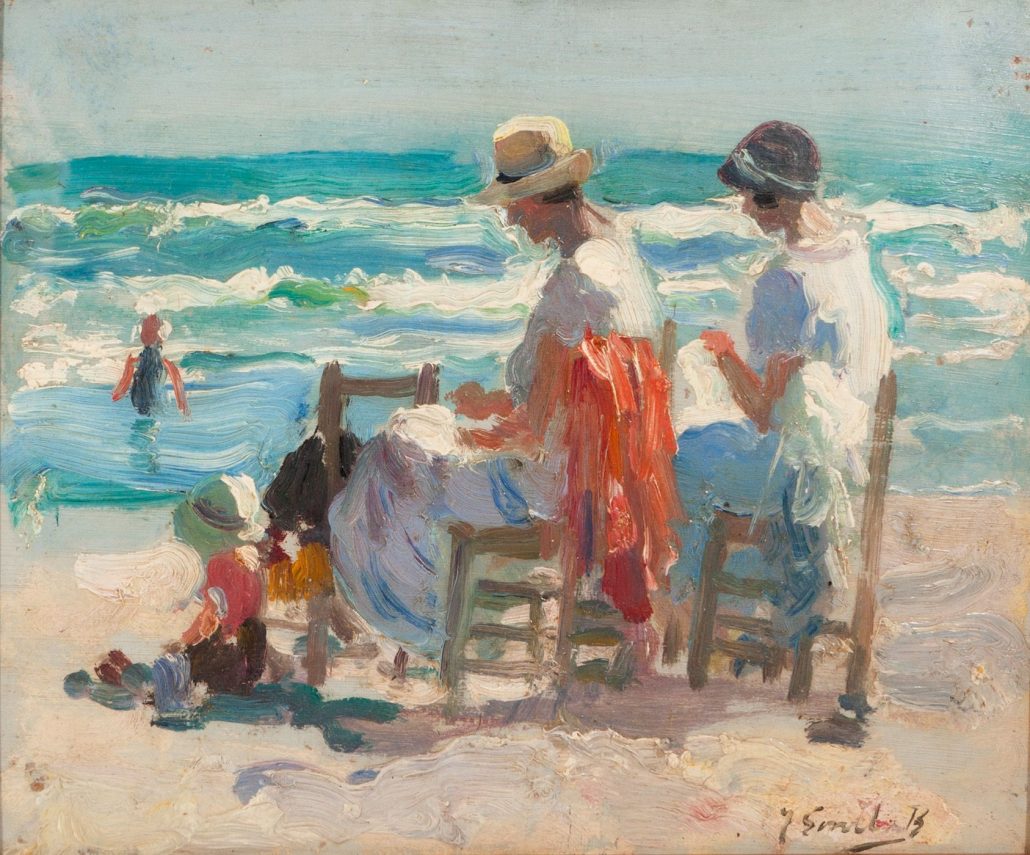 The vibrant brushstroke, the play of textures, the instantaneous capture, the perceptual abstractions … were so integrated into the manners themes of Joaquín Sorolla and Alberto Pla Rubio, that the nineteenth-century folklorist genre is radically surpassed.
The beaches were for these painters places where spontaneous enjoyment was expressed in faces, gestures, baths and colors, in people of different social classes and of all ages . Children letting themselves be licked by the waves on the seashore, elegant mothers watching over them, young people having fun and exchanging confidences … Well, the beach was also like a theater box, where people watched the show (in this case, the infinite sea) but also they observe each other, and they like to see themselves socially represented. White and light clothes
Sorolla's ladies wear light white garments, stirred by the breeze. They cover their heads with sophisticated hats that veil their features. In each Sorolla painting, the drawing disappears under the impetus of a brushstroke that captures in myriad reflections, transparencies and splashes the dialogues between the sea, the sky, the sand and its people.
The Valencian coastal scenes, with their dazzling tonal iridescence, would influence a group of painters settled in Sitges, including Arcadi Mas, Joaquim de Miró and Roig Soler, who were intoxicated by the summer lights that bathed the picturesque (a the same as cosmopolitan) town. They painted the Paseo de la Ribera and the beach from infinite angles, planting the easel on that privileged coastline, silhouetted with white houses.
Levantine luminism was a valuable hinge between the realistic tradition and full modernity , acting as a link between the legacy of Mariano Fortuny and the generation of Hermenegildo Anglada Camarasa.