Jean Prouvé, avant-garde and commitment. Key figure of the modern movement
Jean Prouvé, who earned an irreplaceable place in modern design for having devised avant-garde solutions for disadvantaged groups in the impoverished post-war context, has paradoxically become one of the most sought-after names in the world of design.
In the figure of Jean Prouvé, avant-garde and commitment went hand in hand. The French architect and designer succeeded in making social utopia a reality, at least within his margins of action, when after World War II the bombed cities needed rapid reconstruction.
Prouvé devised cutting-edge solutions to shelter the large number of homeless people in post-war Paris. His militancy in favor of social integration yielded results on different fronts: prefabricated houses with a revolutionary concept, furniture for collectives, synergies between craftsmen and architects…
He collaborated with the stellar figures of the modern movement, such as Le Corbusier and Pierre Jeanneret, but at the same time never renounced his training as a blacksmith and forger.
With a holistic and integrating vision, he knew how to combine all these branches of construction and decoration, always taking into account the container when filling it with content. He defined himself as an "industrialist" rather than a designer or architect, because for him the research of materials, teamwork, the importance of economizing spaces and giving lightness to his designs were all part of the same sphere of creation.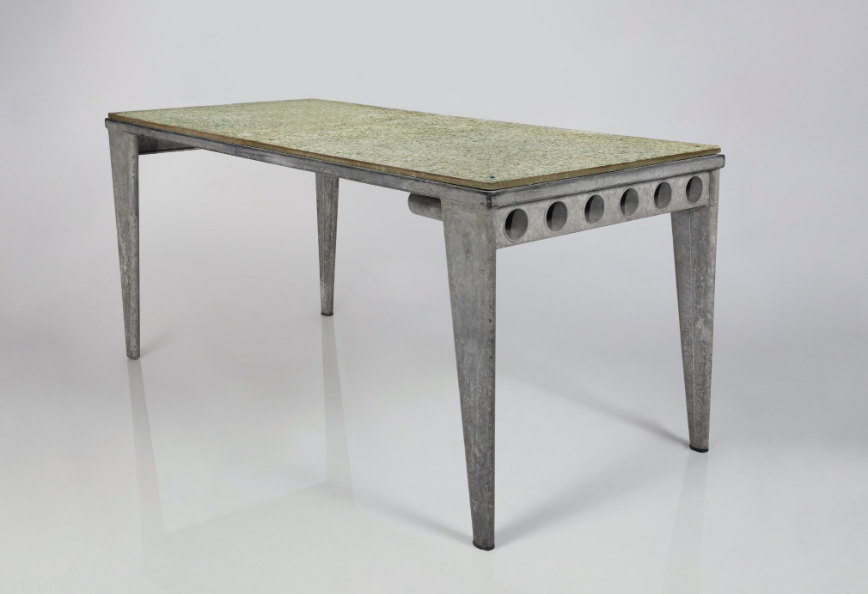 His furniture fetches the highest prices at auctions today because it is functional, rabidly modern and unique collector's items for design lovers. This can be seen in the bidding auctions of their tables, chairs, cabinets and lamps in the main auction houses.
See, for example, the exceptional dining table combining cement and galvanized steel, which Prouvé custom-made for the Saint-Brevin l'Océan vacation colony (1939), and is currently valued at between 200,000 and 500,000 euros (from Pinnacle Art Collection, and auctioned at Sotheby's).
Or the coffee table model 512 (1951) from the Galerie Downtown in Paris and priced at 75,000 euros at Sotheby's.