Success and projection of current Spanish contemporary art
The greatest names in current Spanish art will meet at our next auction on December 19.
It has often been considered that Spanish contemporary art has not achieved the projection and repercussion within the international market that its talent deserves. In this sense, breaking down the frontiers that have traditionally hindered its visibility and scope is a real challenge that Spanish art faces in order to put an end to what has historically been its unfinished business. In fact, it seems that for many years, there have been only a select few who, despite the recessions caused by the economic crises, have maintained their status, consolidating themselves as a safe value on which everyone is willing to bet.
However, this trend seems to be showing signs of change thanks to a generation of artists who, more active than ever and despite the fact that in most cases they are under 40 years old, have managed to break into the international art market in a big way. Despite the disparity of their characters, the great majority of these creators have in common the practice of a figuration that, in addition to having experienced a new resurgence within the sector in recent times, has been able to connect with the current problems of a globalized world in continuous transformation.
Far from any childishness and in spite of their friendly and innocent appearance, their works have a vindictive undertone with large doses of criticism where what really worries them are: ecology, violence, and rebellion against injustice and all those other issues related to the social environment in which we live. However, despite developing a production that reflects the existential concerns linked to the crises that have marked their generation, their work reaches the viewer as a breath of hope thanks to the creative universe they develop under a style marked by naive, pop and even comic and manga aesthetics.
In fact, the growing prominence achieved by artists such as Javier Calleja, Edgar Plans, Rafa Macarrón or Ana Barriga in the international art circuit has established and consolidated their work as a rising value in markets as demanding and competitive as the Asian one, where they are already considered as true celebrities. His works, disputed by galleries and collectors from all over the world, have become an essential attraction as reflected by his presence in the most prestigious fairs and auctions of the moment.
Edgar Plans (Madrid, 1977)
Thanks to a completely personal and recognizable plastic universe, Edgar Plans has become one of the most sought-after emerging Spanish artists. His already iconic Animal Heroes, his Street Artists and his markedly colorful, expressive and lively style have awakened an unbridled fever among collectors and gallery owners from all over the world who do not hesitate to bet on the artist from Gijón.
Javier Calleja (Málaga, 1971)
The Malaga-born artist has taken the Asian and American markets by storm and has become one of the most sought-after artists in the world. His work, full of pop, kawaii and Japanese manga influences, questions the viewer to the point of immersing him in a world that, despite its apparent childishness, hides an evident melancholic charge. At Christie's 2021 his piece "Waiting for a while" sold for $1.14 million.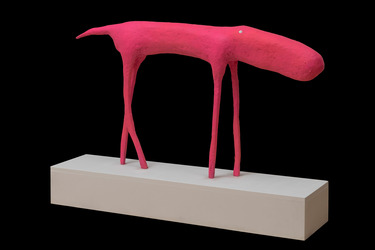 Rafa Macarrón (Madrid, 1981)
Rafa Macarrón, the first Spaniard to exhibit at La Nave Salinas in Ibiza, after Keith Haring or Bill Viola, has become part of the most relevant collections in the contemporary field, exhibiting his work in cities such as Porto, New York, Miami, Hong Kong, Istanbul or Bogota.
The creator of dreamlike scenes and a world of unusual characters that, despite their dramatism and deformity, exude tenderness and kindness, is considered one of the young Spanish artists with the greatest international projection.