Master glassmakers: when glass became art
The most renowned master glassmakers of Art Nouveau and Art Decó star in the next auction on March 16 and 17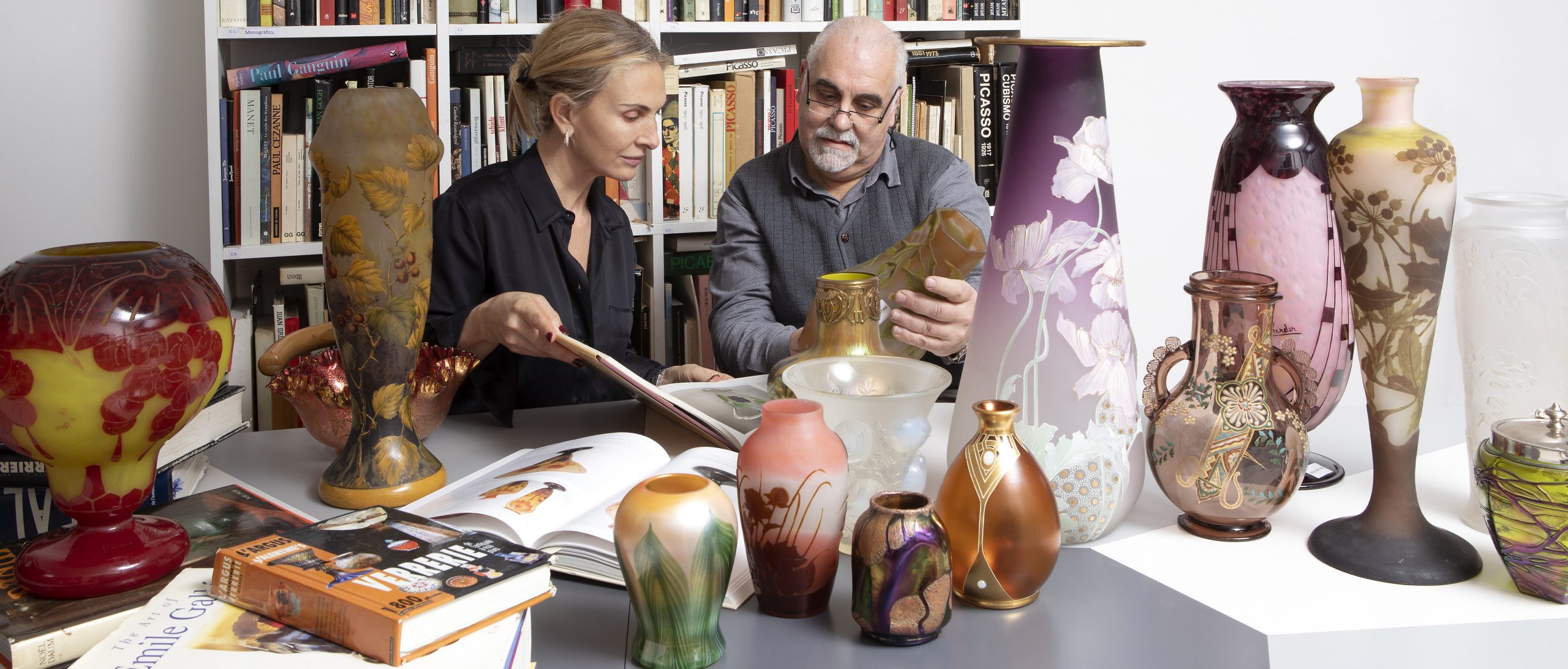 Setdart offers us these days the possibility of contemplating this starry vault thanks to this important and extensive Spanish collection forged between 1970 and the 1990s. through her we can take a tour of one of the most splendid chapters in the history of glass art; focusing on that glassware that explored the expressive possibilities of Art Nouveau and Art Deco in the leading geographical enclaves in its development such as France (Nancy), the Czech Republic (Bohemia), Italy (Murano) or Sweden (Orrefors)
For the occasion we have gathered more than two hundred pieces (vases, centerpieces, decanters, paperweights, lamp stands, ashtrays, small sculptures…) signed by the most renowned glass manufacturers. Its exquisite workmanship and avant-garde concept is in keeping with the time in which they were made.
These great master glassmakers of the late 19th and early 20th centuries managed to turn a type of work that until then had only been crafts into authentic pieces of art . In this sense, Émile Gallé inaugurates this brilliant genealogy of glass artists, which would find continuity in the hands of figures such as René Lalique and the Daum brothers. The names follow each other like stars that form eternal constellations: Charles Schneider, Marius Ernest Sabino, François Theodore Legras, Tiffany, Loetz, Wilhelm Kralik…
Far from being repeaters of models (as their predecessors had been), glassmakers at the end of the century were also daring designers, not lagging behind artistic novelties and fashions, but even ahead of them. .
Thus , Émile Gallé, promoter of the Nancy School, opened a vein of research and recovery of forgotten techniques , so that tradition served him to innovate and revolutionize the decorative arts with his genius. He was a pivotal figure in the development of Art Nouveau.
From Gallé , in Setdart you can buy characteristic pieces from a time when it had no competitors, made around 1900: fine enameled pieces, cameo vases in the Art Nouveau style. ( 35238790) . Likewise, Art Decó pieces are also included, made by notable designers that the firm hired after the death of the master. These are acid-etched vases and centers, decorated with aquatic and botanical landscapes, characteristic of the firm.
René Lalique also made glass a means of creative expression, in the same way that the great glass houses such as Daum, Moser or Loetz would know how to adapt to "modern" designs, since at the turn of the century and during the interwar period languages and styles followed each other at a galloping pace.
As for the Daum family, and probably as a consequence of the success achieved by Gallé, they initially produced luxury vases etched in acid or in the manner of enamelled cameos. very much in the taste of the time. An example of this is this splendid vase with typically Art Nouveau decoration based on the representation of large plant motifs of great beauty and sophistication, dynamic and asymmetrical, ( 35238754)
Another figure endowed with unusual artistic skills was Charles Schneider. After studying Fine Arts in Paris, he joined forces with his brother to found a factory that would take art glassware to the top between 1926 and 1930. As an example put out to tender these days in Setdart, we mention the large Art Deco "Colliers" vase, whose pink marbled background decorated with acid etched geometric shapes represents a magnificent example of the Deco style. (35238745)
As for the production made in the United States, you stand out above all the extraordinary creations of LOUIS COMFORT TIFFANY and its Favrile glass vases whose creation would lead it to win a grand prize at the 1900 Paris Exhibition. This type of iridescent artistic glass was patented by Louis in 1894 and first produced glass for its manufacture in 1896 in Queens, New York. This type of glass has the particularity that some glasses of Classical antiquity also had: its iridescence . The shiny finish that this gives them while giving them a certain degree of opacity was obtained by mixing different colors of glass together while it was hot ( 35238740 and 35238732).
During the first quarter of the 20th century, glass techniques underwent enormous development and creative audacity. A large part of the pieces included in the collection of artistic glass, which Setdart is putting out to tender on these dates, have a value comparable to many of those that are exhibited and guarded in the most important Decorative Art Museums in the main European capitals. Now in Setdart, you can have them at your fingertips.