At the end of the 19th century and the beginning of the 20th century, during the fleeting period of peace and economic boom called the belle epoque, a current of artistic renewal developed in practically the entire Western world: modernism . As its name says, it is a style that seeks to create a new, young and modern art, in contrast to the dominant currents of the time, such as academicism and historicism. Modernism spreads rapidly through Europe and America through art magazines and the ease of dispersion of graphic art. Likewise, universal exhibitions such as the one in Barcelona or Paris, present both the general public and artists and patrons the opportunity to exchange ideas, access a global market and immerse themselves in an aesthetic that includes architecture and painting and that vindicates the equality of the decorative arts.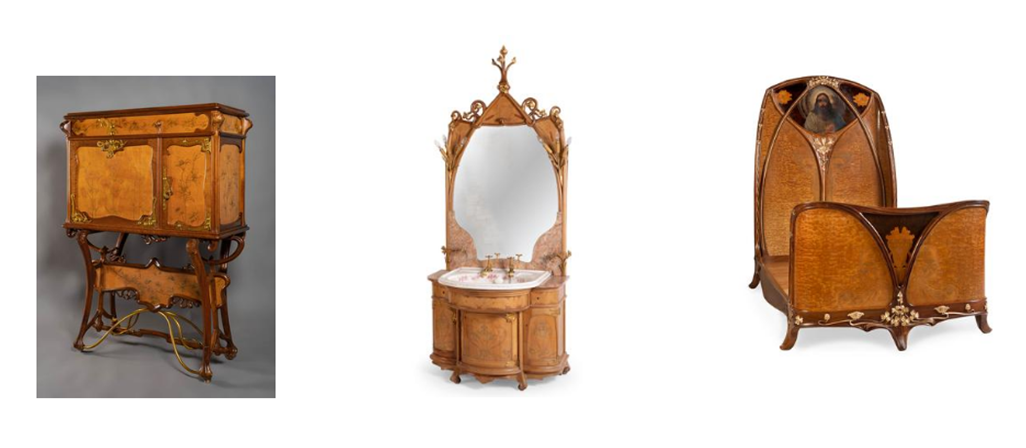 In its Catalan aspect, modernism achieved its own and differentiated personality , fostered especially by the burgeoning bourgeoisie, which sees patronage on the one hand as a possibility of social positioning and on the other a symbol of status, culture and refinement. Enjoying the favor of the local gentry, artists such as Joan Busquets i Jané unleash their creativity under the highest quality standards in the manufacture and design of their pieces.
At Setdart we present for auction a magnificent set of Busquets furniture, the epitome of the excellence of Catalan cabinetmaking. Specimens signed by the artist's own hand stand out especially, indicating them as pieces of particular quality within the workshop's production. The splendid execution of the design, the pioneering use of techniques such as pyrography, as well as the use of the best materials and finishes are all characteristics of the Busquets mastery.
The Museu Nacional d'Art de Catalunya houses a remarkable collection, both of projects and furniture, by Joan Busquets. Furniture, ceiling lamps and other pieces, as well as more than 150 original drawings-sketches made by hand by the author, in which we appreciate similarities with the works that we tender and serve as a point of reference for their study. Through this comparison, the extremely high importance of the collection that will be tendered in Setdart can be clearly appreciated, within which there are undoubtedly pieces of museum quality.