5 reasons collectors love Patek Philippe
Patek Philippe collectors are not like other watch collectors. They don't like to attract attention, which is why they love the understated elegance of Patek Philippe. Simply put, Patek owners know they have the best of craftsmanship, tradition and design on their wrist. So it's a good idea to know the five reasons that make collectors love Patek Philippe.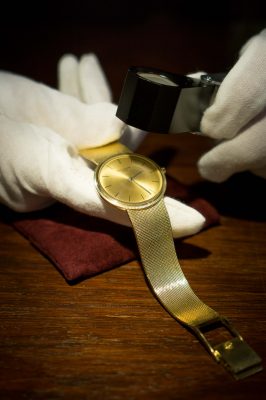 Shortage
Less than 1 million Patek Philippe watches are said to have been made since 1839. This means less than what some high-end Swiss manufacturers produce in a year. Patek's production is so detailed that it takes nine months to make its most basic watches and more than two years to produce some of its most complicated watches. Meanwhile, the demand continues to grow around the world.
Design
The true beauty of a Patek design lies in its movement. Every part of the watch is finished by hand, which can sometimes seem like an excessive detail considering that only a watchmaker can truly appreciate it, and yet even the most layman is surprised by its beauty. The design of the dial is equally incomparable: the faceted batons, the hand-polished hands and the little words that distinguish a Patek Philippe can often go unnoticed and yet the sum of all of these distinguish it as an incomparable piece that feels perfectly on your wrist.
The value of the investment.
The resale value of a Patek Philippe exceeds that of all other manufacturers, whether vintage or modern.
From a broader and more historical perspective, you could have bought a Calatrava for € 250 in the 1950s and today, it could sell for more than € 20,000. There are perpetual chronographs that cost less than € 18,000 in the 1980s but are now over € 350,000. And an original Nautilus from the 1970s, which originally sold for less than € 2,500, is now trading for more than € 40,000.
The files.
Every Patek Philippe watch has a tab available in the Patek Philippe archives. It gives great confidence to know that the production date and the original date of sale can be obtained for every Patek Philippe from 1839.
Owning a Patek watch has a special meaning, it ensures that you have made an extraordinary bet in your life. The excerpts, which meticulously detail the history of each watch, evoke moments in the lives of individuals who have been marked by the purchase of a Patek. The House does not include the names of previous owners on its files, but most of the members of every royal family and countless heads of state and celebrities are found in these archives. It is a wonderful fertilizer for the imagination. Perhaps the previous owner was celebrating the end of a war with his watch, the beginning of a new life with someone, or the birth of a child.
PatekPhilippe's DNA
Since 1839, Patek Philippe has been committed to the continuity of traditional watchmaking art. As the last independent manufacture in Geneva in the hands of a single family, it enjoys total autonomy in terms of creation, which allows it to design, develop and manufacture the watches that specialists agree to recognize as the best in the world, in accordance with the ambition of the founders Antoine Norbert de Patek (1839) and Jean-AdrienPhilippe (1845).
The balanced design, art and craftsmanship in a Patek Philippe are unmatched.
Patek uses traditional watchmaking techniques dating back to the 19th century, and which have been preserved by a select few watchmakers. To make one of its models requires knowledge that is transmitted from generation to generation, just like the watches themselves. And this is how it should be. That is the beauty of a Patek Philippe.
Some Patek Philippe auctioned at Setdart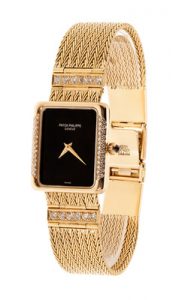 PATEK PHILIPPE rectangular for women, ca. 1976.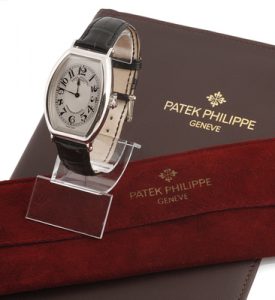 PATEK PHILIPPE mod. Gondolo Chronometer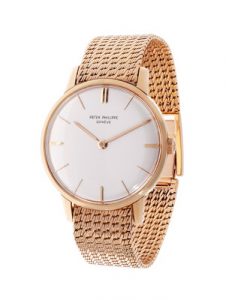 PATEK PHILIPPE mod. Calatravao.
If you want to sell watches from your collection, contact Setdart.