5 curiosities about Edgar Plans
Picasso claimed that learning to paint like the Renaissance artists took him only a few years, but painting like children took him a lifetime. The background of this mythical phrase of the painter from Malaga could well be applied to the singular vision that Edgar Plans imprints in his plastic universe, revealing himself in the face of the annihilation of the spirit of childhood, the artist from Gijón has decided, as Picasso said, to do the most difficult thing: to paint with the same freedom of a child.
If you want to discover some of the events that have marked the life and work of Edgar Plans, be sure to read the following curiosities:
Thanks to his father, filmmaker and writer Juan José Plans, Edgar grew up surrounded by those endearing stories and wacky characters that undoubtedly influenced his work, imbuing it with a magic and fantasy that he has fed on since its inception.
Plans has been developing a very personal style halfway between graffiti, pop, children's illustration and comics, imprinting on them that rebellious spirit that draws from the aesthetics of painters as diverse as Basquiat, Dubuffet or Twombly.
Plans was named the second most in-demand emerging artist in the world in 2019. Since then he has managed to consolidate himself as one of the most prestigious figures and international projection, whose work is one of the most desired by collectors around the world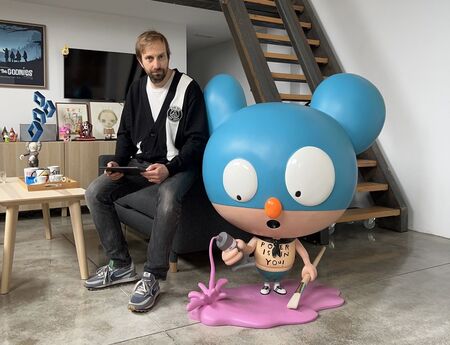 4. In spite of their kind and innocent appearance, their works are claim background where he lives what really worries him: ecology, violence, and rebellion against injustice and all those other issues that he believes concern those of us who inhabit the planet and want life to continue to be the place we imagined when we were children.
5. Edgar Plans' deep knowledge of the world of jazz is reflected in his work through compositions endowed with a particular rhythmic sense.
Despite the years, and the baggage that these have given him, his work still shows that surprised and enthusiastic teenager who, after selling his first painting, saw how his dream of dedicating himself and being able to make a living from painting was closer and closer to becoming a reality, thus confirming that sometimes dreams also come true.