The gypsy people, beyond the stereotype. José Mongrell and Joaquín Sorolla
The fascination of artists with the wandering life of the gypsy people goes back a long time, but it was especially from the romantic era that this attraction transcended the mere search for picturesque or exotic themes. The image that the romantic artist began to gain of himself (and that would intensify with the painters of the first avant-gardes) found in the figure of the gypsy a model with which to illustrate his commitment to bohemia and his anti-bourgeois commitment.
Let's remember the paintings of caravans and gypsy camps settled in the vicinity of Arles that Van Gogh painted , or the numerous portraits of gypsies that KeesVan Dongen made or, in the Spanish sphere, Isidre Nonell, Ignacio Zuloaga and Joaquín Sorolla.
Sorolla, in parallel to his theme of sea and beach, developed an important production of gypsy theme, immortalized their dances and parties, as well as the beauty of their women. An outstanding student of the Valencian master, José Mongrell (Valencia, 1870 – Barcelona, 1937), not only inherited the master's colorful technique, but also his thematic interests. The painting that Setdart is auctioning these days (see lot 35227233) has the peculiarity of showing the theme mythologized by so many artists (a gypsy camp) together with the portrait of Sorolla himself.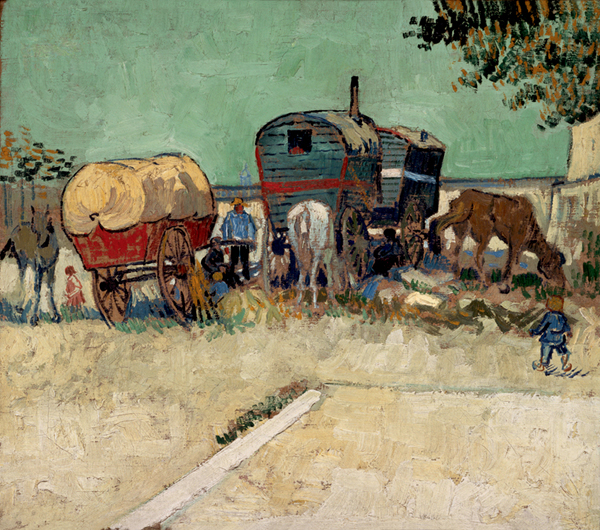 The theme is singular: S Orolla is in front of a gypsy woman who seems to be reading her hand . A silent dialogue is established between the two through the exchange of glances. Sorolla lowers his head, remaining in a reflective attitude, perhaps after hearing the admonitory words of the gypsy. Her weathered face, wrapped in a handkerchief, is hardened but at the same time kind.
Mongrell reveals himself to be a true master in the psychological uptake of his characters : here, the silent dialogue captures us by the mysterious magnetism of the expressions, which always preserve an impenetrable dignity. Mongrell goes beyond genres, because here the social theme is mixed with manners and with the tribute to his mentor friend. The scene is dominated by a warm palette that reflects the Mediterranean sun: an intense cerulean blue reflects on the variety of ocher, browns and reds contrasted, although toned and balanced, with the luminous whites and yellows of the outfits.