Jean Prouvé and Pere Cosp in the same spotlight: an intriguing play of light
It is unlikely that they knew each other, but a little digging into the contributions of the Catalan Pere Cosp and the Frenchman Jean Prouvé in the field of modern design brings to light suggestive correspondences.
In both artists, an initially artisanal training served as a springboard to develop innovative research in techniques and concepts. Jean Prouvé, the son of a cabinetmaker who belonged to the Art Nouveau movement, went through artistic blacksmith workshops in Nancy before settling in Paris, where he would become a key figure in modern design. Pere Cosp, for his part, was born into a Barcelona family of restorers and gilders, so from an early age he came into contact with all trades related to furniture and decoration.
Both would coincide in giving priority to teamwork, involving a whole range of professionals. Likewise, both would devote personalized attention to the spaces where their design pieces were to be destined, when they became referents in their respective fields of creation, receiving important public and private commissions.
Both the French and the Spanish brought a multifaceted personality to their creations, the result of their intellectual concerns and their ability to establish synergies with other trades.
Cosp's great merit is that he blazed a new trail in an environment attached to classicist tastes. He contributed to renewing trends, introducing in the forties and fifties designs that would not be overshadowed by the great European firms of the modern movement. He was an avant-garde avant la lettre, with nothing to envy to the contemporary effervescence in the design capitals.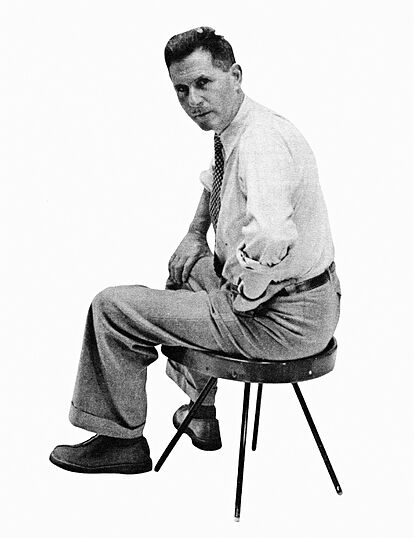 Prouvé, on the other hand, rubbed shoulders with stellar figures such as Le Corbusier and Pierre Jeanneret, but his first steps in forge and carpentry workshops would leave a mark on his way of understanding design. Prouvé turned post-war scarcity into a stimulus for creative ingenuity: prefabricated houses with a revolutionary concept, furniture for collectives (the legendary Standard chair and EM table are his work), synergies between craftsmen and architects?
Cosp also knew how to respond to the demands of his time, gaining the confidence of the Catalan high bourgeoisie, whose houses he redecorated by introducing a flamboyant revolutionary air through the design of lamps, tables, shelves and complete bedrooms.
Setdart's March 8 auction gives us the opportunity to make a comparative study between key pieces of both figures. Let's take two lamps that are currently out to tender, two landmark lamps in the history of design, and "intertwine their bulbs". This will result in a stimulating play of light. We refer to the pair of lamps with wrought iron feet by Pere Cosp, from a summer house located in Sant Andreu de Llavaneras with an interior designed entirely by the author in 1948-1949) and the iconic "Potence" lamp by Jean Prouvé, one of his most renowned pieces for the confluence of austerity and elegance.
While Prouvé subdues tubular steel to the minimum expression by giving it maximum intention, Cosp displays an almost pre-pop ingenuity by integrating a set of black balls with elliptical shapes. The language of each differs, as each shines with the aura of his genius, but both are fully ascribed to the international movement of the mid-twentieth century. The malleability imprinted on the metal and the avant-garde design, perforating the space with groundbreaking shapes, place them at the forefront, standing out among the most propositive pieces of a key moment in the history of furniture and modern design.
Cosp, represented at the Museum of Decorative Arts in Barcelona, and Prouvé, some of whose works are kept at the Pompidou Museum in Paris, are two names that head the main chapters of universal design in the 1950s.