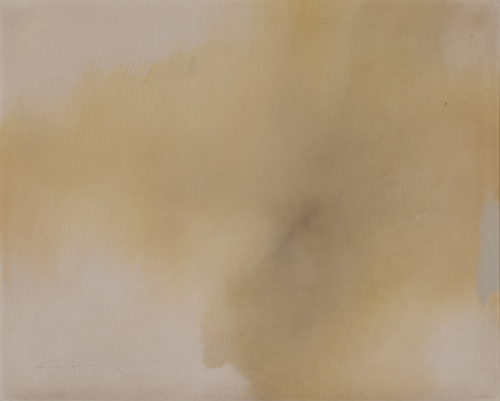 The brilliant Postwar generation transformed the artistic practice of a country that remained anchored in the stale and conservative vision that the dictatorship imposed. As a symbol of struggle and modernization, art then became a space where plurality and creative richness were a cry for freedom. In this context, the work of Fernando Zóbel, whose figure acted as a catalyst for the liberation of artistic practice in Spain, is essential.
The artistic excellence of this post-war period has been backed by international recognition that in recent times has been increased thanks to a growing presence at both museum and commercial levels. A symptom of this is the exponential increase in the price of artists like Zóbel within the art market. You just have to consult the statistics offered by the annual reports of companies specialized in the sector, to verify that the Filipino artist was positioned in the top 5 of the artists who achieved the best results in 2019 at the national level. In our auction, the auctions achieved corroborate the splendid moment that Fernando Zóbel is experiencing, whose last result exceeded the 100 barrier. 000 euros up to 130,000 hammer.
In the same way, the recognition of Zóbel has crossed our borders, positioning itself as one of the artists on the rise in the international market and especially in the Asian market. Thanks to the moment of expansion that the Asian economy is experiencing, the continent has positioned itself as the leading power within the artistic market, until it broke with US hegemony. So far this year, Zóbel has achieved magnificent results both in Europe and in the Philippines, demonstrating and consolidating the idyll he lives with the world of collecting. Without a doubt, Zóbel's figures are the translation of the quality and vision with which the artist brought together a whole generation of artists who, even today, continue to be a benchmark of freedom and creative transgression.
Everything in Zóbel's trajectory runs in a continuous evolution, in which changes flow in a natural and unstoppable way, in the same way that the flow of a river does. And precisely inspired by the river Júcar, Zóbel dedicated himself from the 70's until his death, to experiment with that reality of the natural landscape that he reinterpreted from an abstract conception. In her he found the purest expression of the impressions and sensations that his contemplation awakened in him.
This lyrical vision of reality is translated into canvases such as "El rio XVII", from 1978 that from Setdart we will present at auction on the 20th. In it, the sinuous but precise lines are diluted between the vaporous and evanescent chromaticism of the background, thus configuring a space whose structure takes us to an evocative and poetic landscape in which the influence of calligraphy typical of the Western world converge harmoniously. , with the western abstract tradition.
Related Posts