Mallorca's island was an inexhaustible source of inspiration for Impressionist and Symbolist painters. Santiago Rusiñol has been one of the most esteemed artists by Majorcans, from an idyll that began in 1893, during his first stay on Balearic island. On his death, the Palma City Council proclaimed him an adoptive son and gave a name to one of its streets.
Among the hundreds of pictures he painted in Mallorca, "Gray Castle" (1902) occupies a prominent place . It is a sublimated view of the Castillo del Rey de Pollensa, its stone profile shining with the amber lights of a soft spring sunset. The point of view magnifies the ruins of the old fortification from Roman times, preceded by a valley of irregular orography sown with green brilliance.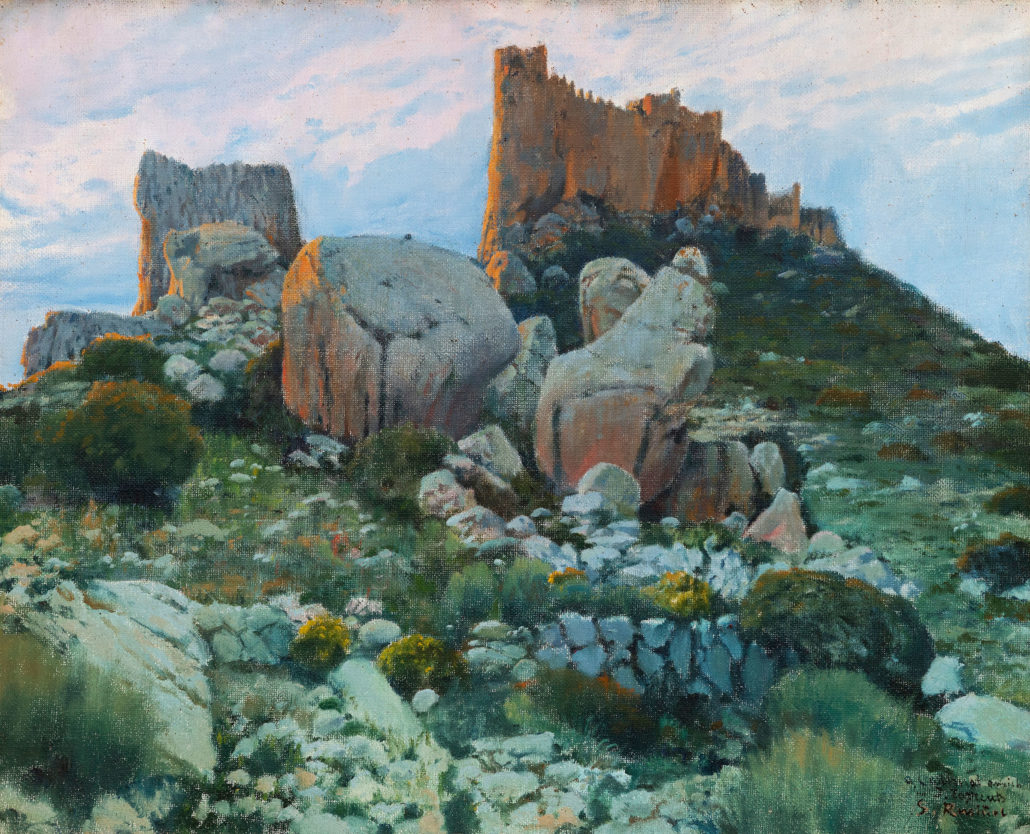 Rusiñol had been invited, on that occasion, by the painter Joaquim Mir . They settled in a farmhouse called "Caseta de les Roses", near the port of Pollensa and Castell del Rei. The friends enjoyed the mild island climate in April and May. The impact that the beauty of the Mallorcan landscape had on the work and the spirit of Rusiñol was condensed in the works he made but also in the book that he would publish that same year: "The island of calm" (1902).
El Castillo del Rey is a corner that has seduced several painters linked to modernism, such as Costa Llobera, a famous poet who has collaborated with the same magazine as Rusiñol. He dedicated the canvas to his friend and collaborator Jaume Massó y Torrents, critic and editor, closely linked to the modernist school and the Belle Époque movement that permeated Barcelona at the turn of the century. Santiago Rusiñol collaborated on multiple occasions with the publication that Torrents ran, displaying a multidisciplinary spirit that catapulted him into the intellectual spheres of the modernist movement in Barcelona.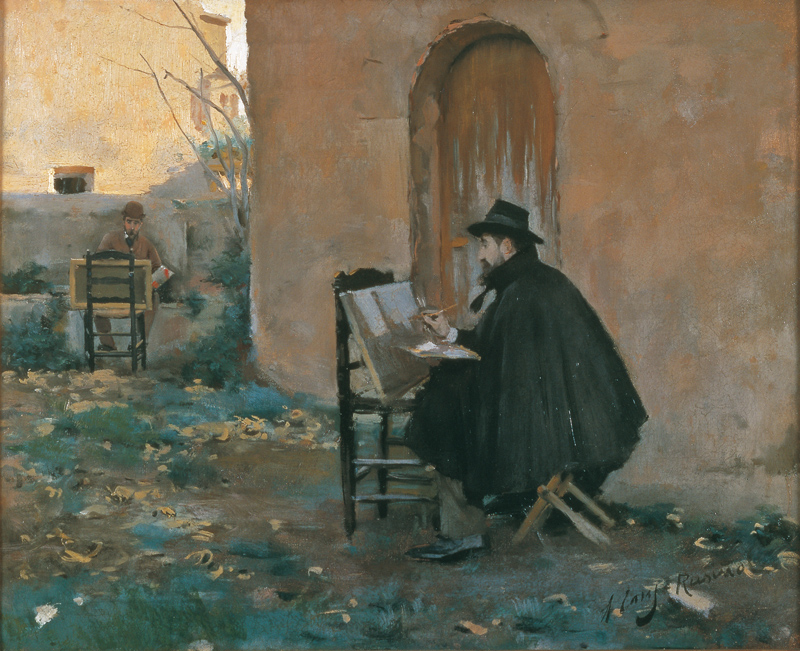 SANTIAGO RUSIÑOL I PRATS (Barcelona, 1861 – Aranjuez, Madrid, 1931) was a multifaceted character: painter, writer, journalist, playwright and collector. His initial training was at the Barcelona Watercolor Center, where he had Tomás Moragas as his teacher. He traveled to Paris in 1889 where he lived with Ramón Casas and Ignacio Zuloaga in the Montmartre neighborhood. In France he became interested in symbolism and painting "Au plain air". On his return to Spain, he opened his CauFerrat Workshop-Museum in Sitges, frequenting his visits in Barcelona to the ElsQuatreGats coffee gatherings. His pictorial production, with a thousand works, and literary, with a hundred titles, in addition to an extensive number of articles, places him as a decisive reference in art, literature and aesthetic ideas of his time. He was one of the leaders of Catalan modernism.