He is one of the leading artists of the contemporary Cuban sphere, and despite the vastness of iconography that his imagination displays, when we contemplate any of his works there is always a magical feeling that only he is capable of summoning.
We are talking about Roberto Fabelo, a painter and sculptor whose work has been gaining deserved recognition in recent decades, as well as high prices. At Christie's auctions, for example, a work on silk very similar in theme and treatment to several of those currently being auctioned at Setdart, reached a record high of $ 437,500 (specifically, the title "A Journey to the Fantastic Garden, by 2016). Also "The Fantastic Garden" from 2006 was auctioned at Christie's for € 271,060, this being a painting with similar characteristics to "De madrugada al Rocío", a 2009 oil painting currently in Setdart Auctions (see lot 35011322).
The important works of the artist that Setdart brings together exemplify different facets of the creation of Fabelo, author of a compelling worldview. Likewise, they record the variety of languages and techniques in which he works, being the materials used, in themselves, conductors of meaning: the bullet casings that make up his impressive weightless "Worlds", with which he denounces the violence that takes root in the civilizing core (see lot 35232558); the allegorical bronzes ("Animalia" 35216981), the mysterious women in oil or drawn on tissue paper, each female body merging through creative symbiosis with birds (35216979), with winged insects (35216977), fish (35216978) and mollusks (35216980 ).

Contemplating these paintings loaded with lyricism, which take us through territories of rich dreamlike cadence, we discover that women operate as a kind of medium between disparate worlds, since it transcends all borders: that of sleep and wakefulness, but also those that separate species, so that as a woman-bird, as a mermaid or seahorse, it crosses all spheres, those of the micro and the macro , uniting the subterranean layer, the oceanic layer, the land and the air.
Nor is humor lacking in his paintings, although he often appears buried under layers of reading. . This is the case of the aforementioned oil painting "De madrugada al decío" (35011322), in which a girl and her brother ride a huge rooster. For Fabelo, this animal symbolizes manhood, which leads the artist to ironically in his paintings about the idea of "macho", associated in popular culture with courage. When he shows females riding them, he transgresses the myth of the male, ironically taming the old stereotype.
The inheritance of magical realism is appreciated in Fabelo's visual arts, which underpins the Latin American literary legacy, but the Cuban artist also explores the European tradition in its surrealist and expressionist currents. However, the truth is that his work is unclassifiable, like that of any great artist, since in essence his imaginary forges from his own desires and demands, his fears and his hopes.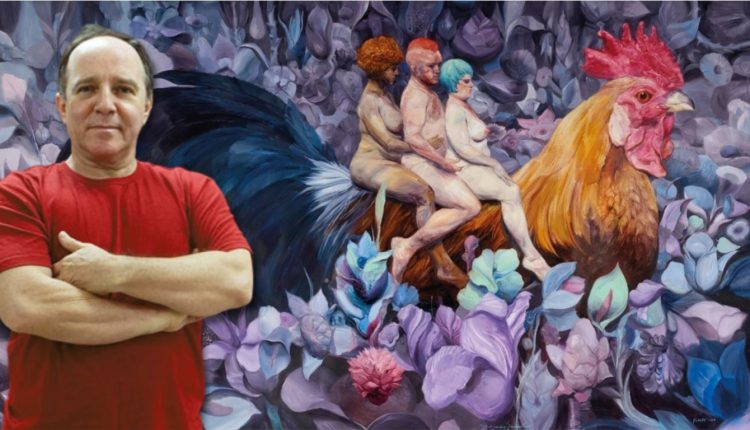 ROBERTO FABELO (Camagüey, Cuba, 1950) studied at the National School of Art and at the Higher Institute of Art in Havana. Throughout his career as an artist, he has been awarded numerous awards for his art, including the National Culture Medallion (Cuba), the Alejo Carpentier Medallion, the first place in the 11th International Biennial of Drawing in the United Kingdom, the first place in the First Ibero-American Biennial of Watercolor in Viña del Mar, Chile and a UNESCO prize for the promotion of Fine Arts. In 1984 Fabelo was recognized at the first Havana Biennial. His work has been shown in more than 40 individual exhibitions and in more than 500 group exhibitions in countries such as Switzerland, Japan, the United States, Mexico, Venezuela, Colombia, Panama, Argentina, Chile, Brazil, Costa Rica, and Ecuador. The work that is presented continues Fabelo's own style, based on an absurd humor as well as a vindictive one. The work is in line with "Fantastic Voyage" (2012), in which a woman riding a hen is presented. For Fabelo, expressionism and surrealism merge in his work, drawing inspiration from reality and fantasy to configure highly expressive works.Today, his work is divided among important collections of a private nature, and also in places of great interest artistic cultural example of them is the Museum of Havana or the Casa Cortes Foundation in Puerto Rico, among many others.