Polifacetic and versatile, Javier Mariscal has made creativity his reason for being. After 40 years of career, the creativity is still for him, a need as basic as breathing. Naif, irreverent and ironic as always, Mariscal lives immersed in a continuous artistic development that he faces with the enthusiasm and commitment of those who have managed to make their vocation their way of life. Proof of this are the 12 pieces that Setdart will bid on the next 23rd of December in an unprecedented monographic auction, dedicated entirely to his pictorial production. The artist's involvement in the process of the pieces gives added value to the set of oils, acrylics, watercolors and inks gathered in what is Mariscal's first collaboration with an auction house. The collection can be visited in Setdart Barcelona and represents a unique opportunity in art world.
Javier Mariscal became a important part of our culture because his creation of Cobi, the iconic figure that accompanied us in the 1992 Barcelona Olympic Games. However, his professional background goes far beyond being the creator of this friendly dog whose design became the most profitable in the history of the Olympics. We discover a surprising work with a lot of disciplines, techniques ,supports, and identities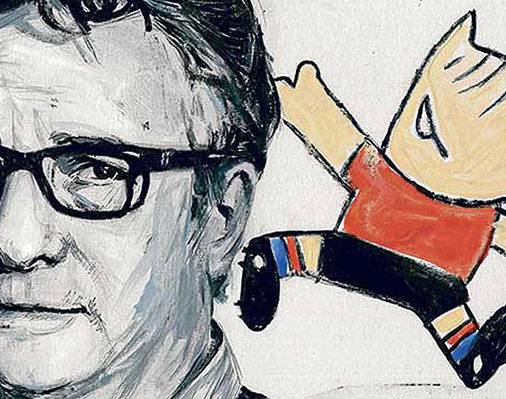 In 1971, the Valencian artist decided to move to Barcelona to begin his studies of graphic design at Elisava school. But his academic training was soon interrupted by an impetuous instinct, which, in a self-taught way, brought him closer to the underground culture typical of comic world. Since 80's, his curiosity will guide him through a multidisciplinary career of different areas as painting, sculpture, illustration, animation or design, he gets to be recognized as one of the most internationally renowned designers. In the following years, Mariscal has carried out an endless number of projects and awards, among which stand out his collaborations with Codorniu, Estrella Damm, Bancaja, Camper or H&M and other exhibitions in prestigious museums such as the Design Museum in London or Georges Pompidou Center in Paris.
However, not everything in his life has been triumphs. After a few years determinated by an economic crisis that forced him to close his studio in Poble Nou in 2014, Mariscal, knew how to transform adversity into his source of inspiration in order to rise again, with the biting vitalist and ingenious spirit that always accompanied him. His work, is the reflection of a particular comprehension and interpretation of the world, which finds in drawing, its purest form of expression. It is in his genuine condition as a draftsman, with a plastic language, which now emerges in its fullness through the set of works that includes the auction.
In each watercolors, inks or acrylics lies the Mediterranean essence, whose music, light, streets, bars and friendships will inspire the joy of life which Mariscal envelops his creative universe. His particular work is irrevocably linked to the personal experiences and geographic enclaves of his course life that announces us the philosophy that Mariscal has never renounced. In this way, the most nearby environments became the ideal scene to understanding art and life. With his characteristic style of exuberant colors, spontaneous strokes and forms simplified to its essence, Mariscal, captures a world made of fleeting moments, which we can identify as our own. His direct narrative draws a universe where, in the company of mythical characters such as the "garriris", we become with the playful, hooligan and carefree sense that radiates with his natural landscapes and urban views .
Due to his ability to adapt, Mariscal has managed to reinvent himself, without losing his personality which, is built halfway between innocence and mischief, joy and nostalgia, fun and commitment… that space where the indivisible essence of a life made art lies.