Rafa Macarrón: the triumph of Spanish contemporary art
Spanish contemporary art is experiencing a new golden age thanks to artists who, like Rafa Macarrón, have reached the Olympus of the international art market.
As Rafa Macarrón himself affirms, growing up in a family like his was a real good fortune. Thanks to her, from a very young age he was able to live immersed in a cultural environment that allowed him to discover his artistic vocation, to which he was able to give free rein with absolute freedom.
In fact, despite being self-taught, he had the great privilege of living with artists of the stature of Juan Barjola, whom he visited regularly in his studio. Following Barjola's advice, Macarrón decided not to enroll in the School of Fine Arts so that, as his teacher warned him, they would not extinguish the genuine and true essence of his creative character.
Thus, an artistic personality was born whose unclassifiable idiosyncrasy is not exempt from multiple references and influences among which we find remnants of personalities as disparate as Basquiat, Dubuffet, Picasso, Miró, Hernandez Mompó or Goya.
As Macarrón admits, the influence of Malaga's genius was present since his childhood, and he took from him the high doses of humor that often tinge his work. On the other hand, the fantasy figuration he cultivates refers us to the expressionist and surrealist tradition, finding in the art of Miró or Arschile Gorky the germ of the hybrid and even dreamlike characters that populate his creations. Finally, in this case, the references to Goya and his iconic Perro semihundido are especially latent in this piece, whose expressiveness manages to reach here its highest quotas with the minimum plastic resources.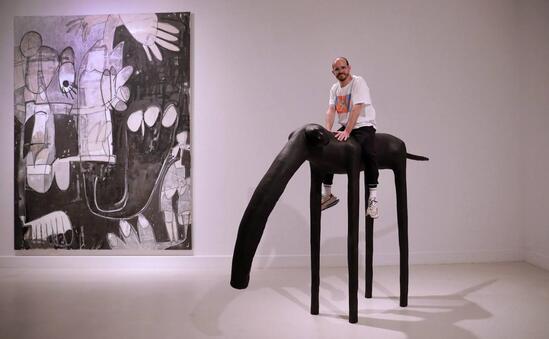 His work thus becomes a magnificent artistic relay of the best of the contemporary Spanish pictorial tradition, whose inheritance is reflected in pieces as characteristic as the one we are dealing with today.
His creative universe is built under a particular vision of everyday life and his own experiences and feelings, reflected here in the figure of the dog. The sculpture, inspired by Macarrón's affection for pets and the memory of his walks in nature with his dog, contains the essence of his art, whose expressive and vitalistic power is condensed in forms and colors that are as exaggerated as they are synthetic. In fact, in the artist's own words, his is an "expressionist work, because it is born from a gesture, but also a type of new figuration". In this sense, the elongated and disproportionate figures to the point of deformation will become a hallmark of his work, through which he will give a soul to each of the characters to which he gives life. Through the figure of the dog, to which he has resorted on more than one occasion, Macarrón unfolds and brings out in the viewer a catalog of sensations and mixed feelings that, between tenderness and a certain pathos, reflect the complexity of the human being.
In short, Rafa Macarrón is part of a generation of artists who have once again placed Spanish art at the top of the international scene. Proof of this is the resounding success achieved both in the rare occasions that his work bursts into the field of auctions and in the many exhibitions that have been held for years around the world.
Its bidding is, therefore, a unique opportunity for those contemporary art lovers who want to add to their collection one of the most sought-after and sought-after artists of the current art scene.