Elisée Maclet (1881–1962), was a French Impressionist painter and the true father of the Montmartre school of painting.
From his youth in Lyons-en-Santerre, Maclet worked with his father as a gardener and learned the rudiments of painting in the open air under the tutelage of his parish priest. Despite his father's opposition, Maclet gave up the gardening trade and moved to Paris in 1906, specifically to the picturesque Montmarte neighborhood. At that time, Montmartre retained its country charm and was a meeting point for artists, it is there where Maclet began to capture on his canvases places such as the Lapin Agile, the Moulin de la Galette, and the Maison de Mimi Pinson with his characteristic style. naive.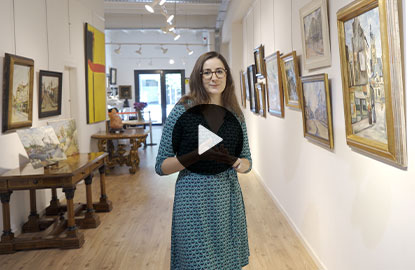 It is in this bohemian Montmartre where Maclet survives doing small jobs and where he meets all the great artists of his time, including Maurice Utrillo. The history of art tends to marginalize the importance of Maclet and the profound influence he exerts on his contemporaries: it would be he who would paint views of Montmartre years before Utrillo did and who would even help his colleague in the development of his career.
At Setdart we are pleased to present up to auction about twenty paintings by Maclet, among which the views of Montmartre and the Sacré Cœur Basilica stand out, which were probably made during his first Parisian period in the first decade of the 20th century.
After the First World War, Maclet found his first recognition among the great figures of his time, such as the writer Colette or the important art dealers Pierre Menant and Matho Kleimann-Boch, who hung their paintings alongside Van Gogh paintings in their galleries. and Picasso. His patron, the Austrian Baron de Frey, financed expeditions that allowed Maclet to paint in the south of France in the following years. Maclet returned to Paris in 1932 and continued to paint, despite suffering from mental illness, until his death in 1962.
Today his work can be found in notable international public and private collections, such as the Museum of Modern Art in Paris. The collection presented by Setdart is a sample of Maclet's artistic activity over several decades and seeks to vindicate the pioneering and visionary role that the painter plays in the production of the Montmartre school of painting.