José Hernández began painting by means of realistic rendering, but from the mid-sixties he began to cultivate his own language: dreamlike symbolism with surrealist connotations as a common factor in his works. His pictorial style is given by reflection and critical observation of reality, a vision where the decadent, the inexorable passage of time, loneliness or decrepitude, occupy a prominent place.
Criticism links the artist with magical realism and the gothic novel, as the artist recreates dark and gloomy atmospheres and atmospheres. His iconographic imaginary is the result of a disturbing, tragic and grotesque, mysterious universe, populated by decomposing or metamorphosing figures, sometimes also by monsters and strange mutant beings that circulate through degraded rooms and spaces, impregnated by a theatrical and melancholic atmosphere . His work is obsessively elaborated, as it is characterized by its meticulous and detailed language.
All these characteristics are found in "La impostura", a work that Hernández solved, -of course-, enveloping it in its peculiar mystery. It stands out for its grotesque appearance, especially on the face located on the left margin, combined in the composition with elements coexisting with the figurative element. In addition, a vaporous treatment is added to the image, which strengthens the enigmatic sensation.
In it, both his creativity and his technical mastery resulted in the freedom to be able to exercise extensively, not only as a painter and printmaker, but also with work as a set and costume designer and illustrator of numerous bibliophile editions, highlighting his contributions to texts from James Joyce, Arthur Rimbaud or Luis Buñuel.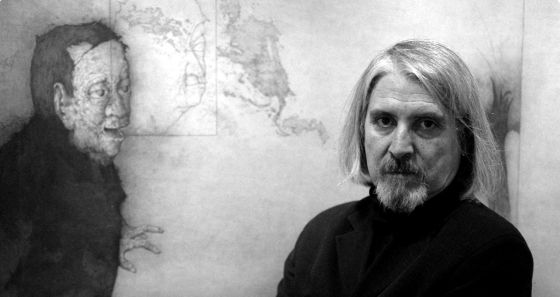 Jose Hernandez (Tangier, Morocco, 1944 – Malaga, 2013) is one of the great references of Spanish contemporary art. His work represents one of the most personal and brilliant contributions to fantastic art in recent decades. His first solo exhibition took place in Tangier in 1962, showing his work again two years later at the Edurne gallery in Madrid. Starting in 1966, he will hold personal exhibitions and take part in international fairs both in Spain and in Paris, Brussels and Tokyo, among other cities. His intense creative work spans five decades forming one of the most outstanding careers, not only on the Spanish art scene, but also on the world scene, given its significant international projection. Throughout his career he has received awards for his work in painting, drawing, engraving and scenography in Spain, Germany, Poland, Bulgaria, Italy, Norway and Yugoslavia, especially among them the National Prize for Plastic Arts (Madrid, 1981) , the International Biella per L'Incisione (Italy), and the Medals of Honor from the International Exhibition of Modern Ex Libris in Malbork (Poland) and the Royal Academy of Fine Arts of Santa Isabel de Hungary in Seville. His work is represented in numerous public collections and museums in Spain, Germany, the United States, Finland, Luxembourg, Chile, Poland, Norway, Bulgaria, Mexico, France and Italy.