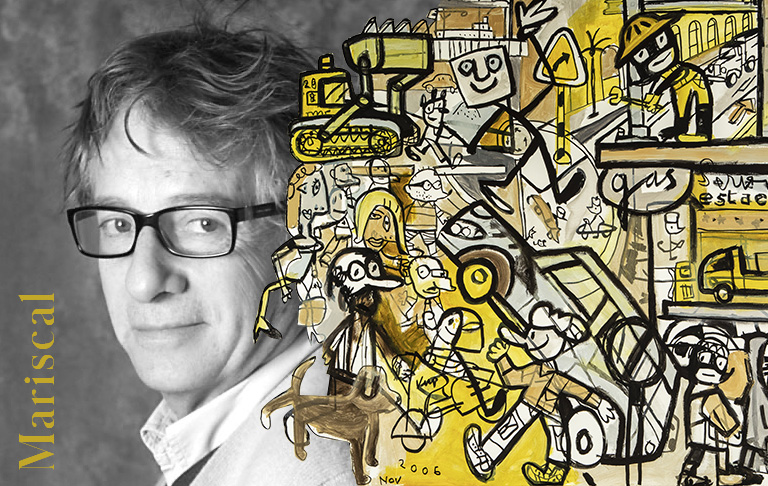 Javier Mariscal became a important part of our culture because his creation of Cobi, the iconic figure that accompanied us in the 1992 Barcelona Olympic Games. However, the artistic dimension of the one who is one of the most charismatic characters in contemporary Spanish culture , goes far beyond this friendly dog whose design became the most profitable in the history of the Olympics. Stripped of this simplistic vision, we discover a surprising work in which, among multiple disciplines, techniques and supports, Mariscal has built an artistic identity that is as unique as it is recognizable.
Of his facet as a painter , Setdart offers two large-format canvases on the 27th whose bidding represents one of the rare occasions to acquire this type of work by the Valencian artist at auction.
In each of the canvases that we present to you, two of the traits that identify him as an artist, but also as a human being, shine through: his carefree and playful character on the one hand and his moral commitment to the social problems of our time on the other.
In the first of them (35221647) Mariscal offers us an urban view, specifically of the city of Barcelona, with which the multifaceted artist maintains an intimate relationship since it became his adoptive home 4 decades ago. . From a motley composition packed with the elements of life in the city, Mariscal creates a work whose structure is inspired by comic strips. His direct narrative and stripped of beads, draws a universe where, in the company of mythical characters such as the garriris, we are infected with the playful, hooligan and carefree sense that radiates from his urban views. However, under this innocent a priori appearance, Mariscal directs a frontal criticism of the real estate boom that began in Spain in the late 1990s, the consequences of which continue to affect thousands of citizens today.
Without losing the naive character that characterizes his plastic language, Mariscal faces in the second of the works (35221648) a question as deep and delicate as immigration. In it we see how an overflowing boat with human beings who try to cross the waters that separate the African continent from Spain are rescued by the coastal police. This more humanitarian and supportive side of society is what Mariscal links to art, turning the canvas into a tool with which to make the world a better place. With the motto "we are all inhabitants of the same planet" the artist shows us his most committed side in diversity of works that, like this one, reflect the desire to make the world a better place for everyone.
Javier Mariscal after 40 years of experience continues to reinvent himself day by day without losing an iota of his personality which, in accordance with his work, is built in border spaces, halfway between innocence and mischief, joy and nostalgia, fun and commitment … that space where the indivisible essence of an artist resides who has made art his vital need.