Salvador Dalí left his masterful mark wherever he passed. The versatile artist, in his Californian years, collaborated with the most brilliant film directors. In 1946, while he was working on the famous dream sequences that would make up the sets for "Remember," Hitchcock's film, he befriended Walt Disney.
It was a dinner in Hollywood, when through the mediation of the director of Warner studios, a friendship was born that would be long and fruitful between the Disney couple and Dalí with Gala. It seems that at that meeting the idea of making a film was already hatched, a project that would materialize in the short film "Destino", for which Disney would travel to Cadaqués in order to finalize details.
Setdart is auctioning an original drawing by Dalí (see lot 35185317) belonging to a preparatory study for said short film: "L'artiste dans son atelier, étude pour Destino de Walt Disney "(1947). Dalí sought to bring together in this composition some of the great milestones of his surrealist painting, focused on the short film he was planning with Walt Disney. Unique in Dalinian motifs, he depicts himself painting a canvas, depicting what appears to be a sketch for a stage, possibly referring to the film studio he was working on at the time. We can appreciate that he is in his study by the sign he placed on the back door with his name. He also sought to capture several of his most emblematic works, thus composing a kind of surrealist retrospective. Some of the paintings that we can observe are: "The persistence of memory" (1931), "The Dream" (1935), "The Vision of the Angel of Cap de Creus", or "Sofa Lips" (1936).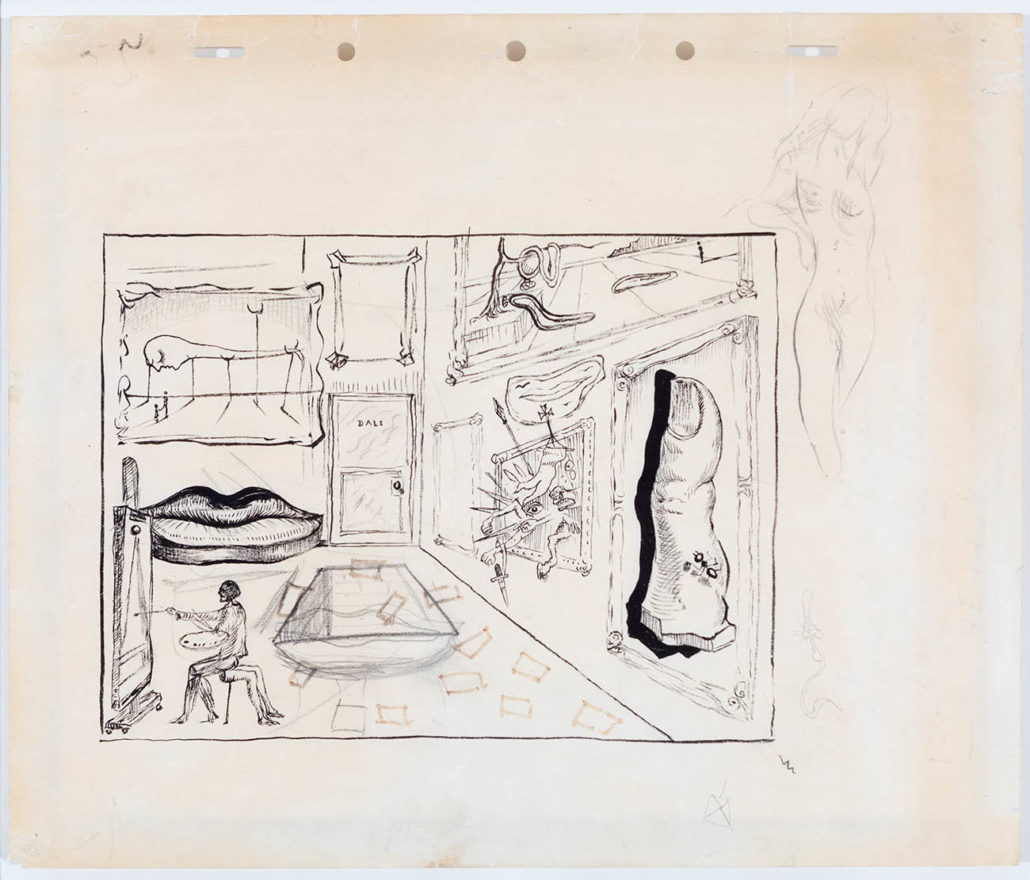 Destination It would not be released by The Walt Disney Company until 2002. Although the collaboration between the American filmmaker and the Catalan painter began in 1945, a series of vicissitudes prevented its initial release. The music was composed by the Mexican composer Armando Domínguez and performed by the Mexican singer Dora Luz. It was included in the Animation Show of Shows in 2003. It was planned to include it as a segment in the movie "Fantasia", but when production was canceled, it was released as a solo short film. The short film was very well received, won many awards, and in 2003 was nominated for the Academy Award for Best Animated Short Film .